The growing market of used metalworking machinery
Metalworking is one of the largest sectors within the Industrial equipment marketplace. It is a complex market by nature and it is very difficult to derive any clear statistics on the volumes of second hand machinery sales that can be relied upon.
However, looking at the sales of new machines for the sector growing from $246bn in 2020 growing 7% to a projected $263bn in 2021, we can conclude that this filters down into the used market and thus predict a similar growth of 7% within the market for second hand machines. (source ReportLinker).
The market was based on networks of regional dealers in the 1980's and 1990's, the second-hand metalworking machines business has shifted to an international one in the 2000's and is now fully online, including significant sales through auctions.
What historically was a high margin market, moving to an international and online based market has seen a reduction in these margins as prices have become more competitive, and being able to accurately value machinery becomes increasingly more important.
Assessing prices of industrial equipment is exceptionally complex for buyers due to the number of different brands, the technical capacities, the precision, options and tools available. Additional services and related costs for dismantling, logistics and installation make it even harder for prospective buyers. This shows how important it is to consider the proper price of the equipment itself as well as the additional costs to derive an overall realistic acquisition cost.
The market is usually split into 3 separate categories:
Machine tools
Sheet metal machines
Foundry
Price of Machine tools
Machine tools work blocks and bars of metal including:
Cutting
Boring
Shearing
Grinding
Deforming
This means a great variety of types and sizes of machine tools but they can be categorised as:
Turning machines (lathes and boring mills)
Shapers and planers
Drilling machines
Milling machines
Grinding machines
Sawing machines
Pressing machines
(source: Britannica)
Their prices are impacted by the capacities, precision, technology and brands with a significant difference between conventional and CNC machine tools (assisted by computers).
Valorexo is the leading digital valuation tool for Industrial Equipment providing a fast, accurate, cost effective fair market price using our algorithm developed by industry experts, including some of the largest equipment marketplaces.
Valuation case for a Mazak Integrex 200 SY CNC multitasking center from 2001
The Japanese manufacturer of machine tools Mazak has a very long history as its founder Sadakichi Yamazaki created the company (then called Yamazaki Machinery) in 1919. It still produces formidable machines in 5 plants across the Globe today.
The Integrex models have been extremely popular since 1997 and are still being manufactured today. Here is an example of valuation of an Integrex 200 SY from 2001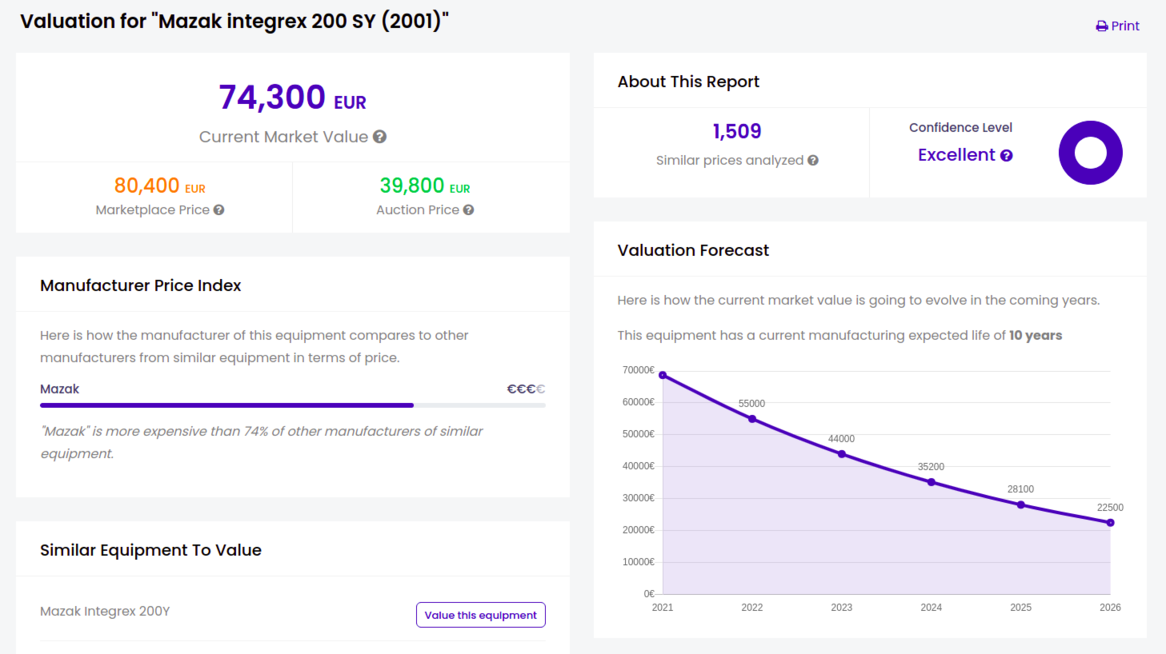 The precision of valuation is extremely high as the Valorexo algorithm used 1509 prices to come up with the fair market price for this Integrex 200 SY. The report shows 3 different prices:
Its current market value
Its marketplace price which is a recommended price if you advertise on portals
Its auction price which is what you can expect as hammer price if you go for a quick sale through auction
The manufacturer index indicates that Mazak machines are usually more expensive than the average manufacturer. If you are in no hurry to sell or buy such a machine, you can see the depreciation over the years to come.
Price of Sheet metal machines
Sheet metal machines cut, bend, form, press sheets of metal into different shapes:
Cutting
Bending
Stamping
Perforating
Deep drawing
Spinning
Roll forming
Press brake forming
Decambering
Wheeling
It usually includes the processing of round and square tubes and like the machine tools, can be operated traditionally or through computers (CNC).
It relies a lot on capacities, options and precision. The machine pricing is therefore once again quite volatile from brand to brand. The drive towards automation is also impacting market values and it is thus critical to plan a proper budget to make an informed decision between the available offers.
A good example is the laser cutting machine which includes a highly technological cutting head and a mechanized frame, both aspects equally important while shopping for the right machine. Annex machinery add ons (eg sheet loaders) and the computerized control add further complexities to value properly a complete set for a production.
Valuation case for a laser cutting machine Trumpf model Trumatic L3030 from 2003
Trumpf is well known worldwide to manufacture some of the best laser cutting machines for the sheet metal industry. The Trumatic L3030 is quite a popular model working sheets of 3000 by 1500mm but with various possible power for its laser head.
In order to value its fair market price, the Valorexo algorithm is looking at many data entries, 2827 in this case giving a high valuation precision. The report shows 3 different prices:
Its current market value
Its marketplace price which is a recommended price if you advertise on portals
Its auction price which is what you can expect as hammer price if you go for a quick sale through auction.
But it also shows the manufacturer index which is high in Trumpf's case but also the depreciation forecasting over the coming years.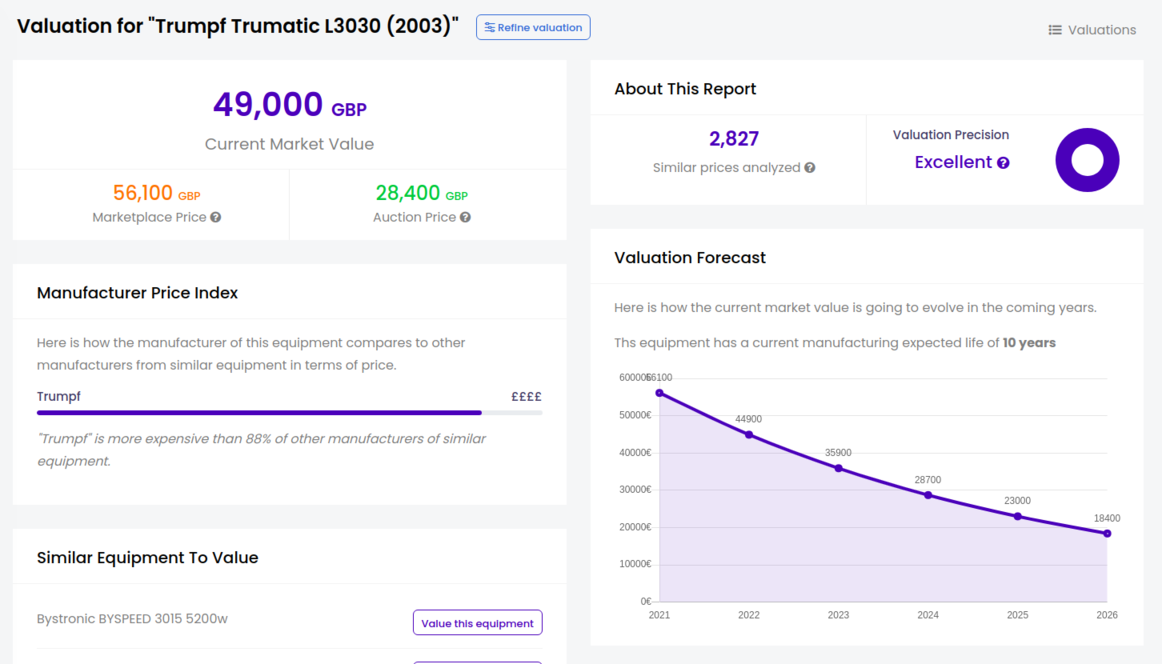 Price of foundry machinery
Foundry machinery manufactures the raw elements to be worked by machine tools (blocks) and sheet metal machines (rolls, tubes, sheets) but also large pieces such railroads or pipe components. Castings are produced through the melting of different types of metal poured into a mould where it solidifies. 9 out of 10 of consumer goods have some metal parts with origins in a foundry.
Their production usually involves:
Moulding
Melting
Pouring
Ejection cleaning
Fettling
Inspecting
Foundry machines can work ferrous (such as steel or iron) or non-ferrous materials (such as copper, brass or aluminum). The exact process (induction or electric arc furnaces) depends a lot on the base metal being worked.
The purchase of foundry machines involves high relocation costs. While the variety of choices is limited in terms of brands, the capacities and sizes are important factors to be considered during an acquisition.
Valuation case for a Amada Arcade 210 punching machine from 1995
And a final valuation for the road, this time from another well known Japanese manufacturer AMADA. AMADA has been producing metalworking machines since 1946 and now employs nearly 8000 people.
The Amada Arcade punching machines have been one of their best sellers. Here is a case for an aging "210" from 1995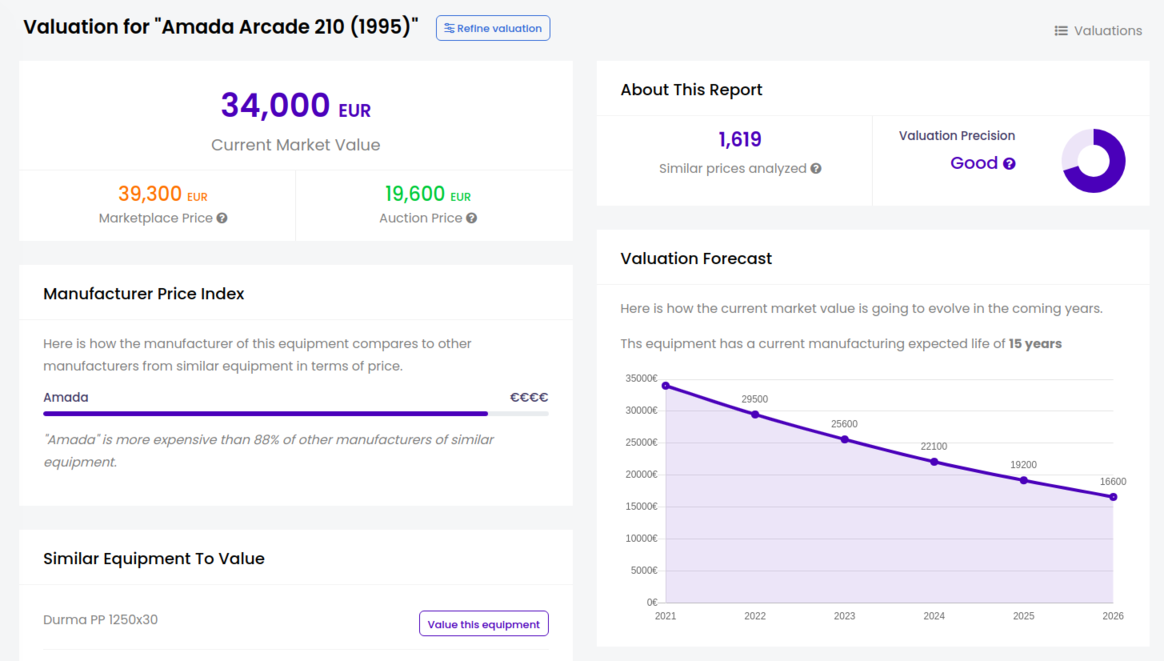 The precision of valuation is good as 1619 prices were used to pinpoint its fair market price.
The manufacturer index is above average and its value should depreciate quite slowly over a period of 15 years until it reaches its residual value.