The market of used printing machines
The market for used printing machinery is certainly one of the most established markets in the industrial equipment sector. Prices are influenced by manufacturer and model but also by age, condition and characteristics. The price is also impacted by the physical location of the asset and the relevant logistical implications and costs to relocate the asset.
Lots of people and companies are searching for printing machines online but often sales enquiries don't convert to an actual sale due to the confusion around pricing. If a seller is looking to liquidate an asset quickly then knowing the current fair market price is imperative.
As with most industrial sectors, there are no clear statistics for the sales of second hand machines. However, looking at new machine sales, the global printing machinery market was about $19bn in 2020 and growing with a projected $25bn to be reached by 2027 (source: ReportLinker). The split between the different types of machines shows the "offsets" as holding the main market share with about 45% of the turnover followed by Post and press press machines (about 20%), the flexo (about 18%) and finally the digital printers (about 15%).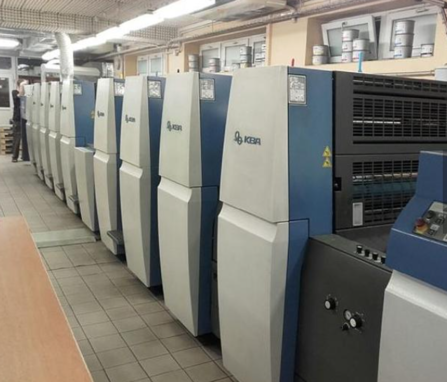 The different types of printing machines
There are 3 main types of industrial printing machines:
Prepress
Press
Post press
Presspress machinery
Before reaching the printing phase of a publishing process, there are a few elements to consider including the design, proofing (delivery of elements to print, usually in electronic format) and the preparation for the production itself. The machines used are the CTP systems and plate processors such as a Heidelberg Prosetter and the paper preparation such as a guillotine or trimmer to get the proper format for the actual printing.
Press machinery
Once the preparation is done, the production itself can start and is usually done on one of three machines:
Offset printing (eg for medium to large batches such as magazines)
Digital printing (eg for small to medium batches such as leaflets)
Continuous printing (eg for journals)
As seen above, most printing shops use the offset printing as the digital print houses are targeting smaller batches while the continuous printing are scarcer and mainly used for newspapers.
The offsets are using 3 different cylinders (plate, offset blanket and impression) to separate oil and water in order to print. They have a number of colors, usually from 1 (black and white) to 6 though some machines will have more to use extra effects such as metallic printing. The 4 basic CYMK (cyan (C), magenta (M), yellow (Y), and black (K)) make the 4 colors offsets the widest used machines on the market but many print houses will extend their machinery park to offer a wider range of possibilities to their customers. After all, the printing business has become extremely competitive and players can either work on pricing (specialisation) or range of types of production.
Digital printing is quite widespread in towns to provide orders of smaller batches to individuals and small businesses.
Finally, the continuous or web-offset use large rolls of paper can print large quantities and are cost effective for production of 50 000 pieces and over.
Post machinery
Once the production is done, there is still a lot of work to be conducted before palletising the end products. This includes laminating (effects, rigidity, resistance, texture, UV protection), cutting (adjusting to format, punching holes…) and assembly (collating, stapling, glueing, folding, inserting…). There is a wide range of machines which can usually be combined to finalize the product.
Examples of valuations for the printing Industry
You can find some examples of models Valorexo helps you value.
Postpress machinery: Guillotine Perfecta 115 TVC
A guillotine is an essential piece of machinery in any print shop in order to cut, to format or post process printed sheets. The German manufacturer PERFECTA Schneidemaschinenwerk has been producing machines for over 120 years.
The Perfecta 115 TVC has an air blown 1150mm wide cutting table with an opening of 165mm high.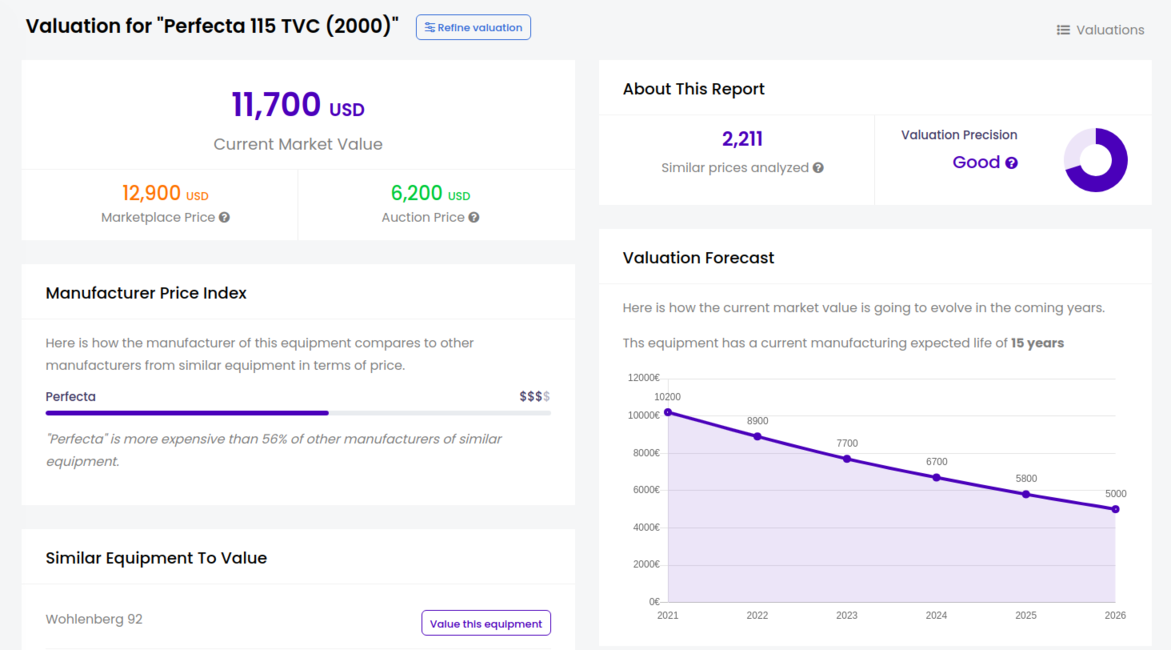 Press machinery: offset Heidelberg SM74-2 from 1996
Heidelberg is a well known brand with more than 170 years of history, more than 11 000 employees, an impressive turnover of $2.35b and over 40% market share of the sheet-fed offset machines market. The services provided and available parts allow quite older machines to keep producing. This is the case of this SM74-2 from 1996 with a projected remaining life of 15 years before hitting its residual value.
The valuation precision is excellent with 3 383 similar prices used to pinpoint its current value.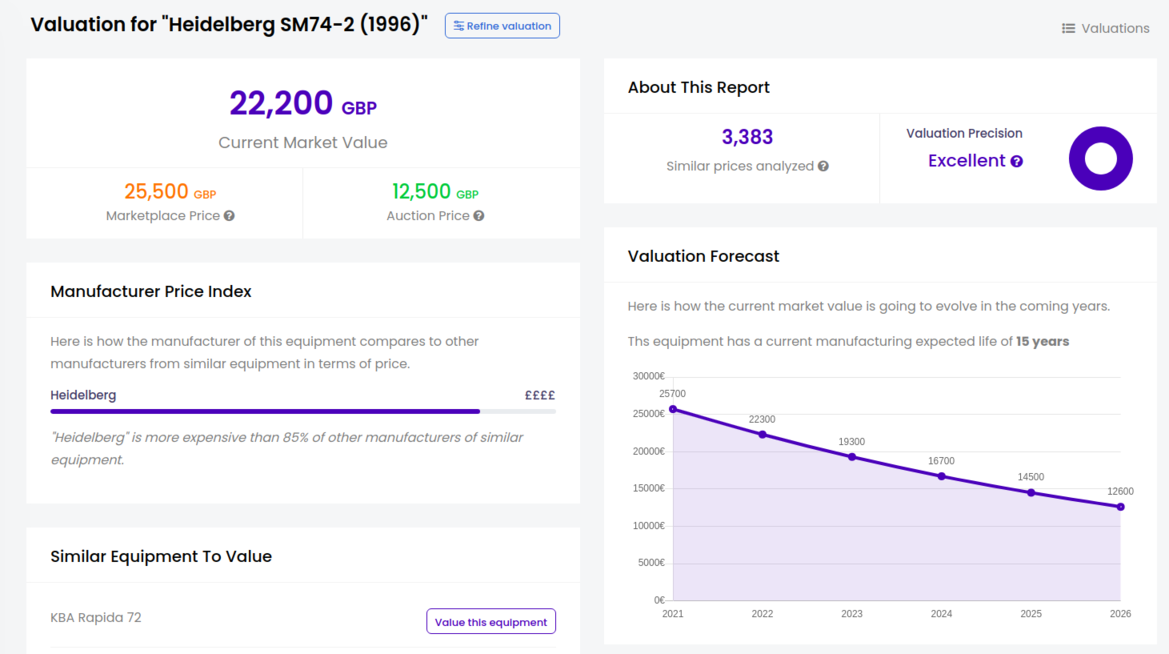 Press machinery: offset Heidelberg GTO 52 from 1990
Another Heidelberg machine, this one an antique one colour offset from 1990, still valuable for smaller print houses around the World. Its expected life is an incredible 17 years which shows how resilient these offsets are.
The valuation has a high precision with 1870 relevant data entries used to determine its value on the market.