The market of used Plastics machinery
The plastic machinery market continues to grow despite the adversity faced by some processes such as single use plastics becoming redundant. Indeed, the Packaging Industry is still developing at a rapid pace and the overall turnover of plastic machines has reached $31.42bn in 2020 (source: Mordor Intelligence) and should keep on expanding to reach $42.44bn in 2026 thus a healthy compound annual growth rate of 5.24% over the years 2021 to 2026.
67% of the plastic products are produced for consumer goods, followed by 25% for the automotive industry. In terms of machinery, injection moulding machines are clearly the most common machines representing more than 75% of units of machines produced and sold annually. This number of machines is projected to reach 500 000 units a year in 2025 (source GVS).
There are many key manufacturers within this space, all currently battling for an increased market share within this growing market. These include:
KraussMaffei Group
Brown Machine Group
Haitian International Holdings Limited
Engel Austria GmbH
Kautex Maschinenbau GmbH
Graham Engineering Corporation
Gurucharan Industries
Milacron LLC
The Japan Steel Works Ltd
Sumitomo Heavy Industries
Arburg GmbH + Co KG
Husky Injection Molding Systems Ltd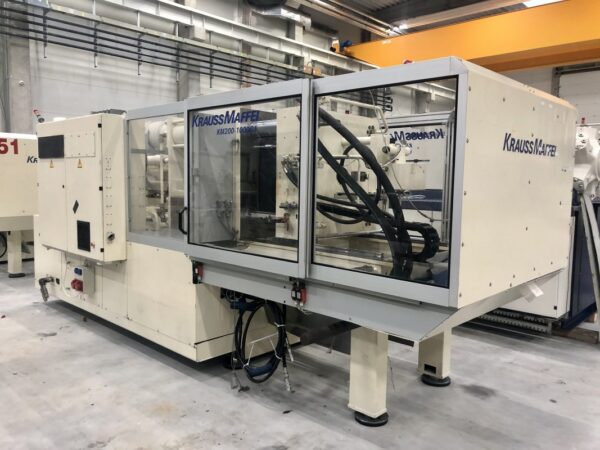 The different types of Plastic machines
The most popular types of machines can be split into four main categories.
The injection moulding machines
Also known as injection presses, these machines are usually made of two parts: the injection and the clamping units and can be horizontal or vertical though most models are horizontal.
Both parts are themselves composed of three elements each. The heater, the screw motor drive and the barrel for the injection and the mould, tie bars and the clamping motor for the clamping.
Most injection moulding machines are hydraulic but you can still find some mechanical or even electrical ones which have higher accuracy.
The size of the mould and the power of injection are the main technical parameters looked at during a purchase.
The plastic extruders
A growing market, the plastic extruders allow a high output of plastic processing. The raw material (in the form of granules, powder or pellets) is heated through a screw driving system producing end products such as plastic pipes, films, sheets, railings or wire insulation thanks to a cooling die. We can split into different different activities:
Sheet and blown film extrusion
Tube extrusion
Over jacketing and coating extrusion
Co-extrusion (multiple layers of plastics extruded at the same time)
Extruders can either be co-rotating (both screws turning in the same direction, clockwise or the opposite) or counter rotating (both screws turning in the opposite direction).
The thermoforming machines
Plastic thermoforming is the process of heating and moulding sheets using a combination of vacuum and air pressure. The plastic sheets are usually quite thin and shaped into a 3 dimensional products through a three steps process:
Design and mould manufacturing in steel, aluminium or even hard plastics
Thermoforming with roll-fed, shuttle or rotary process
Trimming and finishing including cut-outs, hole punching and decoration
Support plastic machinery
There are plenty of support machines working around the production ones introduced above. For example, injection moulding machines can be served by a robot to automate the process further. The plastic recycling machines help to process the left over raw material (chips and flakes). Finally, some finishing machines such as plastic tube saws or CNC trimming machines can be used to finish the end product.
Price of Plastic machines
General growth in the plastics sector has led to an increasing market for second hand plastic machines with many having long life expectancies. Pricing is driven by manufacturer and model as well as technical parameters which cover production requirements, life expectancy of the machines and availability of replacement parts.
In order to buy or sell a plastic machine, it is critical to know the current fair market price.
Example of plastic machine valuations
You can find some examples of models Valorexo can help you value.
Injection molding machine ENGEL Victory 500/220 Tech from 2005
Founded in 1945 by Ludwig Engel, the manufacturer ENGEL is a reference for all injection moulding machines with plants in Austria, Czech Republic, Germany, China and Korea as well as 29 subsidiaries around the world. Still a family owned business, it has c. 6400 employees and generates $1.1bn of turnover.
The Victory model is a long lasting one, this is a 500/220 Tech from 2005.
The valuation report has a good level of precision, using 6559 similar prices.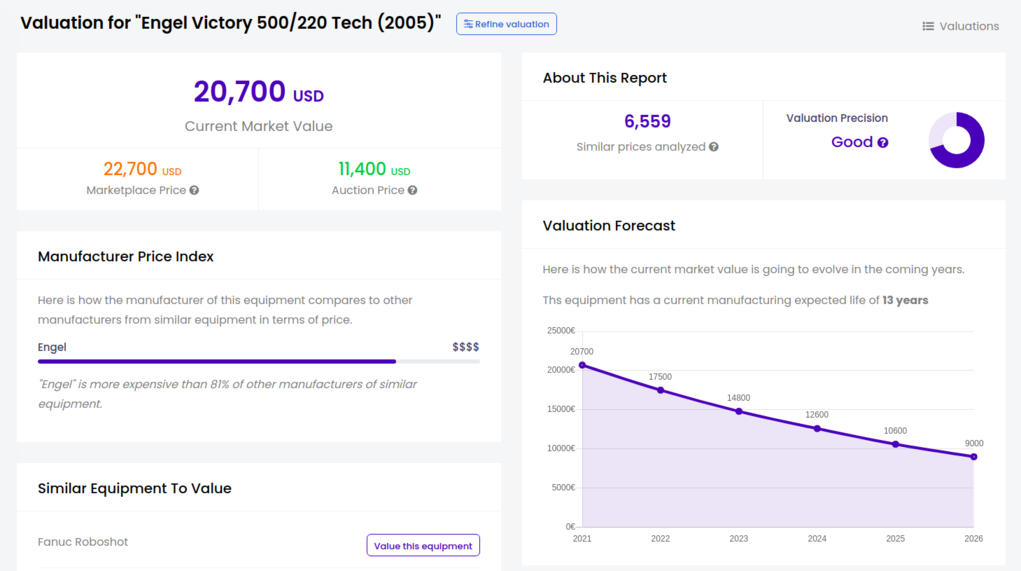 Injection molding machine ARBURG 420 C 1300-350 from 1997
Let's now take a look at a competitor, the German manufacturer ARBURG. Older than ENGEL, the company was launched by Arthur Hehl in 1923 but it is in 1943 that the name ARBURG was born (a mix between AR for Arthur and BURG from their production site in Lossburg). The company developed the ALLROUNDER process in 1961 in which the clamping unit pivots and the injection unit becomes mobile.
Using 6597 similar prices, the valuation precision for this 1997 version of the Arburg 420C is excellent.
The manufacturer price index shows that ARBURG are quality machines above the average market price for injection moulding machines. The valuation forecast shows that it will keep on depreciating for a further 13 years before hitting its residual value.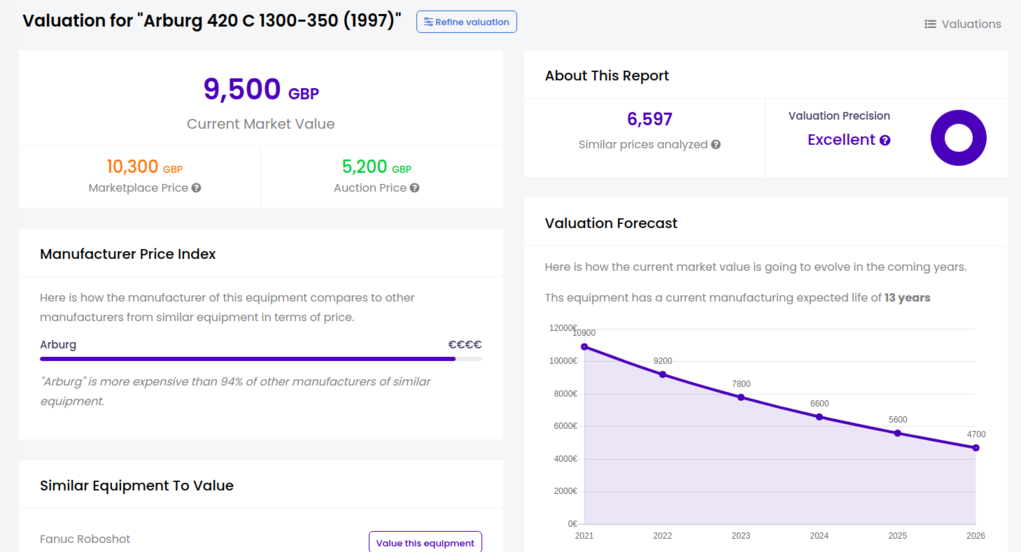 Injection molding machine Krauss Maffei KM 300/1000 C2 from 2003
Krauss Maffei is once again a well known manufacturer with an even longer history as Joseph von Maffei founded the company Eisenwerk Hirschau in 1838 in Munich. In 1931, Maffei merged with Krauss & Comp and has since become part of the Netstal group which in turn grouped all his models under a unique brand name in 2019: "KraussMaffei". They produce both Injection moulding machines and extruders.
This KM 300/1000 C2 has a clamping force of 3000kN / 300T, a screw diameter of 2.2 inches and a tie bar spacing of 24.8 inches.
The valuation for this 2003 model is based upon 6,561 similar prices having been analysed and providing good valuation precision.